Hi. I'm Thomas Barta. I study marketing leadership—the art and science of making change happen. Forget the grand corporate plan. In a fast-changing world, firms need brave leaders who dare to act. People who want forgiveness—not permission.
I'm a former partner of McKinsey. My research includes the world's largest study—involving over 68,000 executive profiles—on what makes an impactful customer leader, in a digital, global world. On most days, I spread the word through keynotes, teaching, and writing. Occasionally I advise blue chip firms.
What I've been up to (in a nutshell):
Former partner of McKinsey
Conducted the world's largest study, involving over 68,000 assessments, on what makes an impactful customer leader
Led brands and major company transformations for over 20 years, in 14 industries, in 45 countries for many of the world's top organizations, including over two dozen from the Fortune 500
Spoke to thousands of leaders at events for organizations such as Amazon, Adobe, Adweek New York, Financial Times, Google, Oracle, SAP
Wrote the #1 marketing leadership book The 12 Powers of a Marketing Leader with Patrick Barwise
Organizational Psychologist
Former Dean, McKinsey leadership program
Leadership Dean of the global CMO Fellowship (a McKinsey and Marketing Academy JV that prepares CMOs to become CEOs)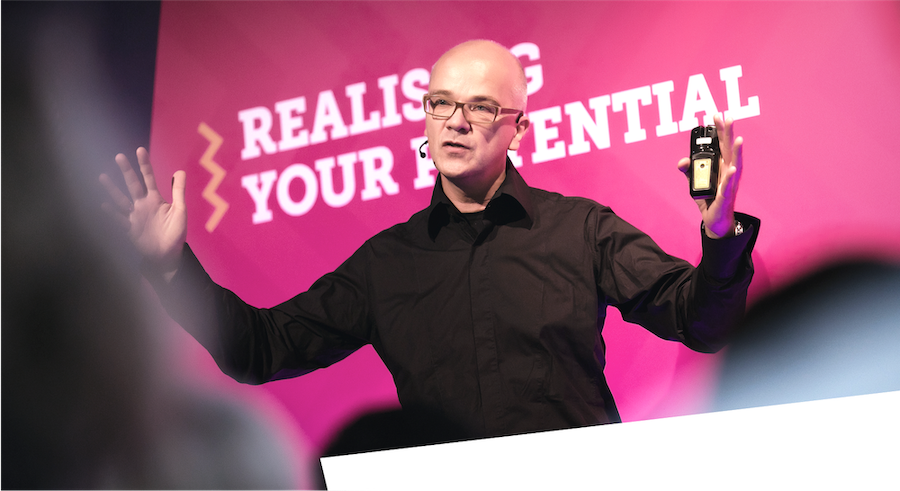 'Inspirational, powerful—simply 5 out of 5!'
– Emma Roborgh, CEO, B2B Marketing Leaders Forum
'He has a unique ability to draw people in.'
– Catherine Tabaka, President & CEO HC North America, Sodexo
'Dynamic, inspiring, and thought-provoking.'
– Marta Hasler DeBellis, VP Enterprise Marketing, Adobe
'By far one of the best audience scores we've ever seen.'
— Joyce Joanne Verburg, Google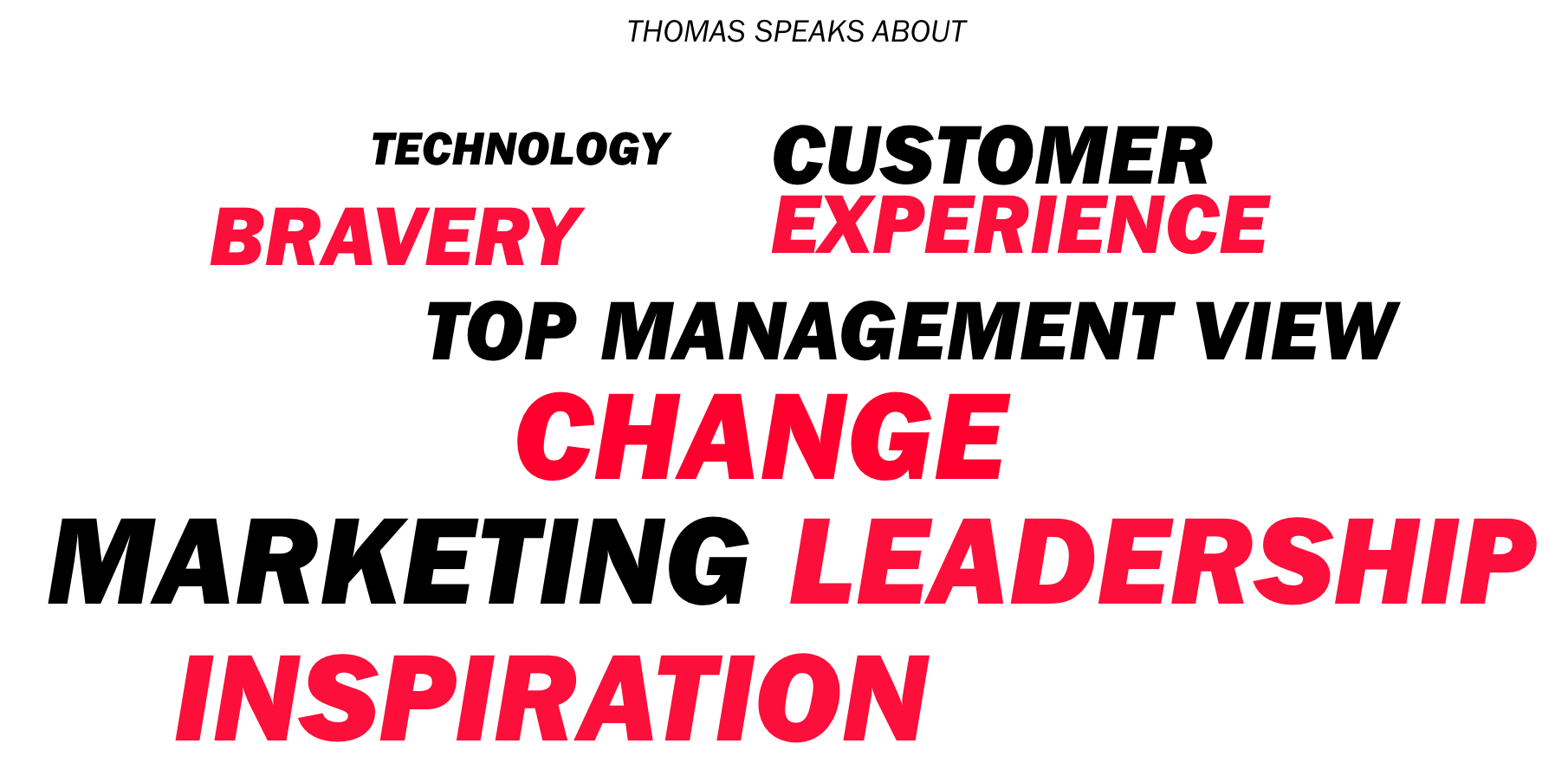 ---
… on ditching your job description
---
… on leading digital change
---
… on marketers' career diseases
Each year I speak at numerous events about change, digital transformation, the power of marketers, sparks, movements, and how to ditch the job description. My passion is to get onstage, make the case for change, and motivate people to act.
Act,

to put customers first
Act,
to transform the organization
Act,

to make change happen

The 12 Powers of a 

Marketing Leader

Rethink your marketing role in a totally new way. Doing marketing isn't the same as leading marketing. Learn how the world's most successful marketers mobilize the C-suite, their peers, their teams, and themselves. The aim? More growth, more influence, and quite simply, more fun! (Also available as a ½-day or 1-day workshop.)
How to be

brave

How do you grow a business in times of rapid change? The "Silo Inc." model has stopped working. Customers are too impatient, too well informed, and too powerful. Learn how customer heroes help firms crack the code on customer focus. Be your own influencer. Tackle big issues. And get your job description out of the way.
Digital 
Leader
Everyone knows that technology is crucial for long-term success. But knowing isn't the same thing as acting. Too many executives struggle to get their companies to embrace digital transformation. Today's leaders can't just tell people what to do—not even the CEO can do that. Hear the success stories of effective mobilizers, and beat the barriers to change!
Customer 
Freak
What does it take to invent the next smartphone, Post-it note, or ice cream flavor that everyone wants? Business growth requires leaders who spark passion and inspire big dreams. People with fire in their eyes. These leaders ignite innovation and action in the people around them. Hear the success stories of today's most inspirational customer leaders. Be the spark that lights the fire!
| | | | |
| --- | --- | --- | --- |
| Oct 11 | Festival of Marketing | Keynote speaker | London |
| Sep 13 | The CMO Fellowship | Masterclass host | London |
| Sep 12 | The Marketing Society | Keynote speaker | London |
| Jul 04 | Richmond Marketing Forum | Keynote speaker | Lake Lucerne |
| Jun 28 | TechManch Conference | Keynote speaker | Mumbai |
| Jun 27 | censhare ecosphere days | Keynote speaker | Munich |
| Jun 04 | The Marketing Academy CMO Fellowship | Masterclass host | London |
| Jun 03 | giffgaff, corporate event | Keynote speaker | London |
| May 23 | B2B Marketing Leaders Forum | Keynote speaker | Sydney |
| May 22 | Marketo executive event | Panel moderator | Sydney |
| May 22 | The Marketing Academy | Keynote speaker | Sydney |
| May 13 | Marketing Leadership Seminar | Masterclass host | Amsterdam |
| Apr 30 | Private Management Retreat | Keynote speaker | Bangkok |
| Apr 27 | 7th Brand Forum Seminar | Keynote speaker | Dhaka |
| Apr 08 | The Marketing Academy | Masterclass host | New York |
| Apr 06 | Marketo Executive Event | Keynote speaker | Hong Kong |
| Apr 30 | The Marketing Leadership Masterclass | Masterclass host | Global |
| Mar 21 | Advertising Week | Keynote speaker | London |
| Mar 20 | Akzo Nobel Network Summit 2019 | Keynote speaker | Amsterdam |
| Mar 12 | The Marketing Society | Masterclass host | Edinburgh |
| Mar 7 | Marketing Week Live | Keynote speaker | London |
| Feb 22 | Adobe Exec. Roundtables | Keynote speaker | New Delhi |
| Feb 20 | Adobe Exec. Roundtables | Keynote speaker | Hong Kong |
| Feb 5 | The CMO Fellowship | Masterclass host | Kitzbühel |
| Jan 23 | Marketo Fearless 50 | Masterclass host | SFO / live online |
| * 2018 * | | | |
| Dec 6 | Think With Google | Keynote speaker | Lisbon |
| Dec 3 | Private corporate event | Keynote speaker | North. Europe |
| Nov 30 | Private corporate event | Keynote speaker | Europe |
| Nov 14 | The Braver Conference | Keynote speaker | London |
| Oct 10 | Festival Of Marketing | Keynote speaker | London |
| Oct 4 | Corporate Marketing Conference | Keynote speaker | San Francisco |
| Oct 2 | Marketo Advisory Board | Keynote speaker | Napa Valley |
| Sep 19 | B2B Marketing Leaders Forum | Keynote speaker | Singapore |
| Sep 14 | The Marketing Academy | Masterclass host | London |
| Jun 18 | CMO leadership masterclass | Masterclass host | Cannes |
| May 22 | Private corporate event | Masterclass host | London |
| Mar 19 | Think With Google | Keynote speaker | Stockholm |
| Mar 8 | Marketing Week Live | Keynote speaker | London |
| Mar 7 | Think With Google | Keynote speaker | Oslo |
| Feb 22 | Think With Google | Keynote speaker | Brussels |
| Feb 21 | Private corporate event | Keynote speaker | Vienna |
| Mar 1  | Amazon | Keynote speaker | London |
| Feb 28 | Imperial College | Keynote speaker | London |
| Feb 28 | The Marketing Academy | Masterclass host | London |
| Feb 1 | McKinsey/Marketing Academy | Masterclass host | Kitzbühel |
| Jan 12 | Private corporate event | Masterclass host | Zurich |
| Jan 11 | Private corporate event | Keynote speaker | London |
| Jan 11 | Capital Group | Keynote speaker | London |
| * 2017 * | | | |
| Dec 19 | Private corporate event | Keynote speaker | Den Hague |
| Dec 04 | Private corporate event | Keynote speaker | Hong Kong |
| Nov 29 | IBM Watson Summit | Keynote speaker | California |
| Nov 26 | Atlanta CMO Executive Summit | Keynote speaker | Atlanta |
| Oct 4 | Internet and Mobile World | Keynote speaker | Buchsrest |
| Sep 22 | The Marketing Academy | Keynote speaker | London |
| Sep 21 | Financial Services Summit | Keynote speaker | London |
| Sep 20 | The Marketing Academy | Masterclass host | London |
| Aug 24 | Amplify Marketing Festival | Keynote speaker | Edinburgh |
| Jul 25 | Adobe Experience Forum | Keynote speaker | Singapore |
| Jul 25 | Adobe Experience Forum | Masterclass host | Singapore |
| Jun 22 | Adobe Think Tank | Confernece host | Cannes Lions |
| Jun 21 | Private corporate event | Confernece host | Cannes Lions |
| Jun 14 | The Marketing Academy | Masterclass host | London |
| Jun 07 | LikedIn & Marketing Society | Keynote speaker | New Delhi |
| Jun 06 | Marketing Society | Keynote speaker | New Delhi |
| May 31 | Think With Google | Keynote speaker | Madrid |
| May 30 | Think With Google | Keynote speaker | Madrid |
| May 23 | Adobe Symposium | Keynote speaker | Sydney Opera |
| May 19 | Private corporate event | Keynote speaker | Sydney Opera |
| May 16 | The Marketing Academy | Keynote speaker | Sydney |
| May 16 | B2B Leaders Forum | Keynote speaker | Sydney |
| May 04 | Adobe Symposium | Keynote speaker | Mumbai |
| Apr 21 | Private corporate event | Keynote speaker | Bangkok |
| Apr 11 | Corporate Financial Group | Keynote speaker | NewYork |
| Apr 09 | CMO Fellowship | Keynote speaker | London |
| Apr 08 | Google Double Click | Keynote speaker | Spain |
| Mar 22 | Advertising Week London | Keynote speaker | London |
| Geb 10 | London Business School | Masterclass host | London |
| Jan 18 | CMO Fellowship | Masterclass host | Kitzbühel |
| Jan 17 | SAP | Keynote speaker | Singapore |
| * 2016 * | | | |
| Nov 17 | The Marketing Society | Keynote speaker | London |
| Nov 17 | CMO Fellowship | Masterclass host | London |
| Nov 15 | London Business School | Keynote speaker | London |
| Nov 15 | Private corporate event | Keynote speaker | Munich |
| Nov 10 | Inspire Leadership Lecture | Masterclass host | London |
| Nov 09 | Private corporate event | Keynote speaker | Amsterdam |
| Nov 08 | Private corporate event | Keynote speaker | Paris |
| Nov 04 | The Corporate Financial Group | Keynote speaker | New York |
| Oct 18 | Private corporate event | Keynote speaker | London |
| Oct 13 | The Marketing Society | Masterclass host | London |
| Sep 28 | Advertising Week New York | Keynote speaker | New York |
| Sep 21 | CMO Fellowship | Masterclass host | London |
| Sep 16 | Private corporate event | Masterclass host | UK |
| Aug 25 | Private corporate event | Keynote speaker | Tokyo |
| Aug 02 | Private corporate event | Masterclass host | UK |
| July 28 | Private corporate event | Masterclass host | UK |
| July 18 | Private corporate event | Keynote speaker | Scotland |
| July 11 | Private corporate event | Masterclass host | New York |
| July 06 | Private corporate event | Masterclass host | London |
| Jun 16 | CMO Fellowship | Masterclass host | London |
| May 21 | Adobe Summit | Keynote speaker | London |
| May 09 | Private corporate event | Keynote speaker | Paris |
| Apr 20 | cmo.com executive event | Keynote speaker | London |
| Feb 05 | Private corporate event | Masterclass host | Zurich |
| Jan 27 | Private corporate event | Keynote speaker | Amsterdam |
| Jan 20 | CMO Fellowship | Masterclass host | Kitzbuehel |
| * 2015 * | | | |
| Nov 26 | World Marketing Congress | Keynote speaker | Mumbai |
| Nov 12 | Private corporate event | Keynote speaker | Zurich |
| Oct 14 | Data IQ Link | Keynote speaker | London |
| Oct 16 | Pärnu Marketing Conference | Keynote speaker | Pärnu |
| Sep 25 | Private corporate event | Keynote speaker | London |
| Sep 21 | Private corporate event | Keynote speaker | Cologne |
| Sep 15 | Swiss CRM Forum | Keynote speaker | Zurich |
| Sep 25 | Private corporate event | Keynote speaker | Heidelberg |
| Jul 16 | Private corporate event | Keynote speaker | London |
| Jul 10 | Private corporate event | Keynote speaker | London |
| Jul 07 | ad:tech asean | Keynote speaker | Singapore |
| Jun 30 | Private corporate event | Keynote speaker | Hamburg |
| Jun 05 | Private corporate event | Keynote speaker | HongKong |
| Jun 02 | FT Marketing Innovators Summit | Keynote speaker | London |
| May 14 | Private corporate event | Keynote speaker | London |
| Apr 29 | Private corporate event | Keynote speaker | London |
| Apr 29 | Adobe Summit 2015 | Keynote speaker | London |
| Apr 08 | Private corporate event | Keynote speaker | Singapore |
| Mar 19 | Private corporate event | Keynote speaker | London |
| Jan 08 | Private corporate event | Keynote speaker | Bangkok |
| * 2014 * | | | |
| Dec 08 | Private corporate event | Keynote speaker | Park City |
| Dec 04 | Private corporate event | Keynote speaker | London |
| Nov 24 | Private corporate event | Masterclass host | Kitzbühel |
| Oct 13 | Private corporate event | Masterclass host | Kitzbühel |
| Oct 01 | Private corporate event | Keynote speaker | London |
| Sep 22 | Private corporate event | Masterclass host | New York |
| Sep 15 | Private corporate event | Masterclass host | Park City |
| Aug 15 | Private corporate event | Keynote speaker | Singapore |
| Jul 01 | Private corporate event | Masterclass host | London |
| Jun 16 | Private corporate event | Keynote speaker | Park City |
| May 28 | Private corporate event | Masterclass host | Singapore |
| Apr 07 | Private corporate event | Keynote speaker | Tokyo |
| Mar 03 | Private corporate event | Masterclass host | Charlotte |
| Mar 18 | Corporate Financial Group | Keynote speaker | New York |
| Feb 27 | CMO Council Advisory Board | Keynote speaker | New York |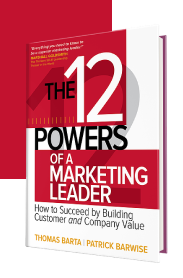 THE 12 POWERS OF

A MARKETING LEADER
The Leadership Book for Marketers
by Thomas Barta & Patrick Barwise
"Everything you need to know to be a superior marketing leader!"
– Marshall Goldsmith, The World's Thinkers50 #1 Leadership Thinker
"A must-read for every present and future CMO who cares about making a difference."
– Seth Godin, author of All Marketers Are Liars
"The essential leadership playbook for the CMO of the future."
– Jim Stengel, former Global Marketing Officer, Procter & Gamble
"A masterful dissection of what it really takes to lead marketing."
– Syl Saller, Global CMO, Diageo
"A persuasive perspective on the opportunities open to marketers to lead for change."
– Paul Polman, CEO, Unilever

Free read:

How to Make Things Happen When You're Not The CEO?

Great ideas achieve nothing unless they're executed. Paddy and I have summarized many tips in this booklet (via Change This)
Free read: 

Why Effective Leaders Must Manage Up, Down, and Sideways